SCOTSMAN ICE RECEIVES GOOD DESIGN™ AWARD
VERNON HILLS, ILLINOIS (January 5, 2016) – Scotsman Ice Systems' Meridian™ HID525 ice and water dispenser has received a 2015 GOOD DESIGN™ award,  the world's most prestigious, recognized and oldest Design Awards program organized by the Chicago Athenaeum Museum of Architecture and Design. Designed with space, production and installation in mind, the Meridian unit offers premium reliability, time-saving serviceability and convenient cleaning innovations.
"Launched earlier this year, the Meridian product line incorporates the latest in ice- and water-dispensing technology in the smallest available operational footprint relative to capacity," said Jeff Biel, director of product development for Scotsman. "The Meridian unit emphasizes our commitment to pairing quality design with reliability and efficiency – which was validated with this GOOD DESIGN award."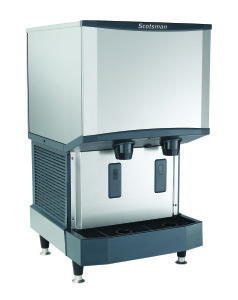 The Meridian™ HID525 features durable stainless steel components, larger sink drain openings and enhanced, high-tech dispensing that helps prevent overflow. Additionally, AquaArmor with AgION® is molded directly into key components to help inhibit the growth of bacteria. Meridian™ models also feature Scotsman's exclusive greaseless bearing design, a fully sealed configuration that eliminates the need for grease — saving valuable time and labor and ensuring a safer ice supply.
Ideal for any area where space is at a premium, Meridian™ HID525's specially designed contoured side panels and external air filter offer maximum breathability with minimal clearance required. Additionally, the Meridian™ HID525 is up to 15 percent more efficient than the competition, providing the most energy savings possible.
The Meridian™ HID525 helps reduce maintenance time at every step. Scotsman's convenient USB drive allows fast software updates without replacing the control board, and a unique removable front panel makes it easy to access and service all key internal components, saving valuable time. When service is needed, intuitive LED diagnostic lights reduce downtime, and the QR code provides quick access to unit-specific service manuals and warranty information.
With best-in-class technology powered by infrared sensors that intuitively sense start and duration, Meridian™ HID525 features an enlarged dispensing envelope and offset spouts to accommodate a variety of containers. All Meridian™ models produce the new H2Nugget ice form which is easier to dispense while still being the softest, most chewable ice on the market.
For more information on the Meridian product line, visit www.scotsman-ice.com/meridian.
About Scotsman Ice Systems
As one of the world's largest manufacturers of ice systems, with more than 300 models of ice machines, storage bins, and ice and water dispensers, Scotsman is dedicated to developing today's most innovative ice solutions. Committed to US manufacturing, Scotsman manufactures 99% of our equipment at our award-winning production facility in Fairfax, South Carolina. In 2013 and 2012, Scotsman earned the ENERGY STAR® Partner of the Year Award; and in 2011, Scotsman was the recipient of the ENERGY STAR Award for Excellence in Energy-Efficient Product Design. Now, Scotsman's Prodigy Plus® technology takes energy and water consumption to the lowest levels ever, making a notable difference in the environment and your bottom line. For more information, visit www.scotsman-ice.com.
About the GOOD DESIGN™ Awards
GOOD DESIGN™ is the world's most prestigious, recognized, and oldest Design Awards program organized annually by The Chicago Athenaeum Museum of Architecture and Design in cooperation with the European Centre for Architecture, Art, Design and Urban Studies. GOOD DESIGN covers new consumer products designed and manufactured in Europe, Asia, Africa and North and South America.